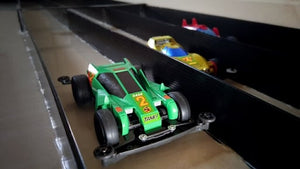 Tamiya Mini 4WD: Designing and Modifying for Top Performance
Tamiya Mini 4WDs are a popular hobby for people of all ages, and for good reason. They are a fun, exciting and relatively inexpensive way to enjoy the thrill of racing while bonding with your fellow hobbyists.
However, if you want to win races as well as make memories, you'll need to have a car that is performing at its best. There are countless Tamiya Mini 4WD kits and parts, so endless possibilities exist. You need to have a car that is performing at its best if you want to enhance your chances of winning.
How You Can Boost Your Tamiya Mini 4WD's Performance
There are so many Tamiya Mini 4WD car kits that you can buy if you're just starting to get into this awesome hobby. Buying and using these kits is a great way to start, but you don't have to just stick with whatever the kit gives you.
By modifying your new racing car, you can make it swifter and faster than it was before.
If you're planning on entering any races, keep any rules or regulations in mind. You may be disqualified if your car breaks any rules.
Race rules can differ from country to country, so it's very important that you familiarise yourself with the rules of the specific race you're planning on entering. For instance, Tamiya Mini 4WD races in North Harbour, Auckland tend to follow the rules highlighted in this page. For more information, we recommend viewing their website or visiting the North Harbour Mini 4WD Facebook page.
Here are some tips for designing and modifying your Tamiya Mini 4WD for top performance:
Choose The Right Chassis. The chassis is the foundation of your car, so it is important to choose one that is well-designed and durable. There are a variety of different chassis available, so it's important to select one that is appropriate for your racing style.
Some chassis are designed for speed, while others are designed for handling or durability. Think about how you race and handle your car on the track, then think about the best chassis for your style.
While you may be tempted to choose the car that you think looks the best, you should always think about performance first. Then, select a chassis that fits your style and that you think looks awesome.
Use High-Quality Parts. When modifying your car, it's vital that you use high-quality parts. Great parts will ensure your car is reliable and performs at its best. Avoid using cheap or weak parts, as these can break at the worst times and ruin your race.
Balance Your Car. It's crucial to have a well-balanced car. This means that the weight of the car should be evenly distributed. If your car is not balanced, then it will be more difficult to control, leading to poor performance and heaps of frustration.
You can adjust the balance of your car by moving the battery or other components around. Make sure you always test your Tamiya Mini 4WD after you modify it in any way to ensure it runs smoothly.
Tune Your Car. Once you have modified your car, you must then tune it. 'Tuning' refers to adjusting the settings of your car to get the best possible performance. There are many things that you can tune, such as the gear ratio, the suspension and the motor.
The best way to tune your car is to experiment and see what works best for both your car itself and you as the racer.
Upgrade Your Motor. The motor is, naturally, one of the most important components of your car. So, it's worth upgrading it. This can give your car more power and speed.
There are many different motors available, so you should select one that fits your style. Some motors focus on speed, some focus on acceleration, some are balanced for the average racer and so on.
Use Lightweight Parts. The lighter your car is, the faster it will accelerate and the better it will handle. So, look for lightweight parts whenever possible, and always keep weight in mind. You can also remove any unnecessary parts from your car to reduce its weight.
Remember that balance is key, and you should think carefully when adding or removing any parts of your Tamiya Mini 4WD.
Improve Your Aerodynamics. Good aerodynamics can help your car reduce drag and increase speed. Make sure that your car has a smooth body and that there are no unnecessary gaps or holes that could slow it down.
You can also add spoilers or wings to improve aerodynamics.
Tune Your Suspension. The suspension is vital for keeping your car stable and under control. Adjust the suspension settings to match your racing style and the track conditions.
For example, if you are racing on a bumpy track, you may want to soften the suspension to absorb the bumps.
Where You Can Find Amazing Tamiya Mini 4WD Kits, Parts And More In Aotearoa
Whether you're a serious racer who strives to win every race they enter or a casual hobbyist who just wants to build an awesome car, we at Totara Hobbies have something for you. Come and see our amazingly vast selection of Tamiya Mini 4WD car kits and parts.
We also have awesome RC cars, slot cars, dice, Gundam model kits and more! For more info, call us on +64 21438727 or visit our site.
Make your Tamiya Mini 4WD the best that it can be with Totara Hobbies!
---